Place: Willowbrook Wildlife Center
Location: 525 S. Park Boulevard, Glen Ellyn, IL
Type Of Place: Nature Center
Secret: Although most of the animals are outside, this is also a nice rainy-day place, because there is a small play area indoors. The indoor area has puppets, puzzles, and a big hollow tree for kids to sit and read inside. Some smaller animals, birds and reptiles are also kept indoors for you to view. Look for baby squirrels and chipmunks, owls, turtles, frogs, snakes, bluejays and robins, etc. They also have some "pets"... two doves, two rats, and two rabbits... that kids are allowed to interact with. Volunteers will take these pets out for kids to play with, under close supervision!
Appropriate Ages: Nature lovers of all ages, from infants to senior citizens, will adore this place!
Cost: Free, but they do ask for donations to help cover the cost of caring for the animals!
Willowbrook Wildlife Center
is one of our favorite places, and has been ever since I discovered it when Little Bear was about four years old. Its an animal refuge where wild animals who are ill or injured can be nursed back to health. The goal is always for animals to be rehabilitated and released back into the wild. However, in many cases, an animal's life can be saved but it cannot be expected to survive in the wild. In those situations, the animals find permanent homes at Willowbrook.
When we first started going to Willowbrook, Pufferfish couldn't even walk yet, so I was pushing her in a stroller while towing Little Bear along by the hand. Each cage has a sign on it that tells a little bit about the species of animal inside, and also about why the animal is living at Willowbrook. (The ones outside are usually there to sta y.) Little Bear was four years old and couldn't read yet, so we'd go from cage to cage, and I'd read her the stories of the animals, like the owl who broke its wing and can no longer fly well enough to be in the wild, the owls with poor vision, and the raccoons who were kept as pets by someone until they were too tame to survive in the wild. Little Bear remembered each of these stories between visits to the nature center.
Our favorite was always the red fox with three legs. The fox was found in someone's backyard, suffering from a badly broken leg and a case of mange. He was brought to Willowbrook, where his mange was treated, but his leg was too badly broken to be repaired. It had to be amputated. Animals can adapt to having only three legs, but not well enough to be expected to live in the wild. So the fox found a new home at Willowbrook. Each time we came to Willowbrook, Little Bear would recite the story of the three-legged fox.
So when we found out about Willowbrook's new adoption program, where people can "adopt" an individual animal and have their names posted on the animal's cage, Little Bear was tall over it! She, Rafael, and Pufferfish are trying to raise $75 to "adopt" the three-legged fox. We recently made slime to sell at the playground, and we plan to sell mini rootbeer floats on the next warm day. So far we've made about $24. If anyone would like to make a donation, Little Bear and the crew will be eternally grateful! s liJust click on this link:
This blog is a labor of love, but tips are welcome!
It leads to my Paypal address!
[caption id="" align="alignnone" width="420" caption="This is the red fox that Little Bear, Rafael and Pufferfish want to adopt!"]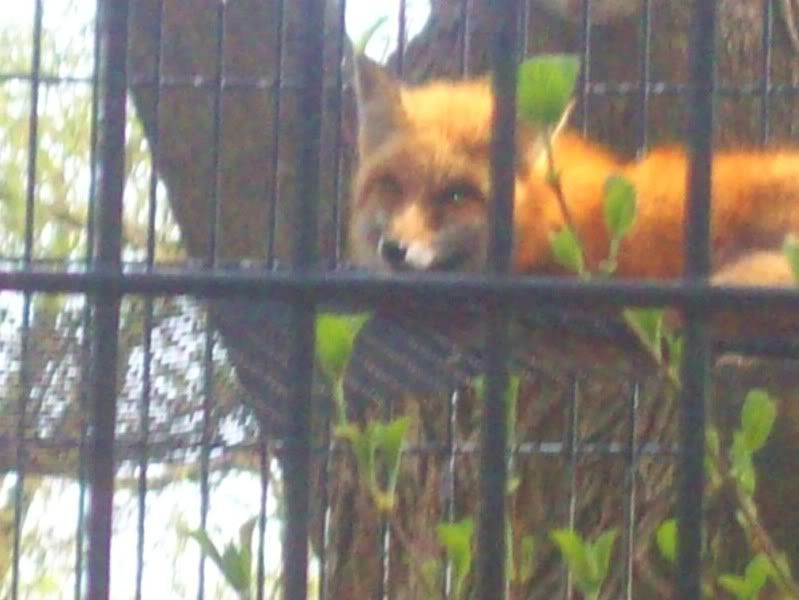 [/caption]
Now that Pufferfish is older, she's starting to enjoy visits to Willowbrook too! The other day we met our playgroup there for some time in the great outdoors! Check out how much fun we had!
[caption id="" align="alignnone" width="439" caption="Pufferfish looks at the fox in the cage. 'Pufferfish and her friends walk on stepping stones in the sensory garden, where wonderful smelling plants grow!"]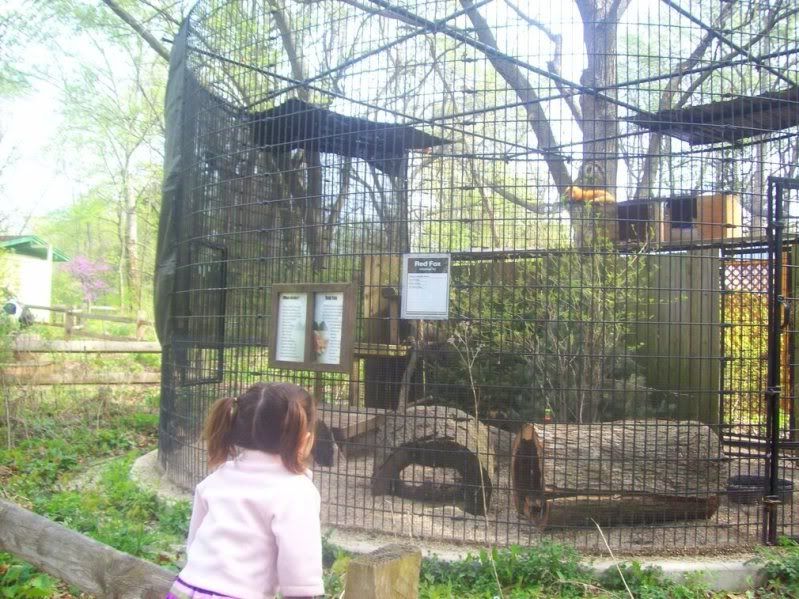 [/caption]
[caption id="" align="alignleft" width="404" caption="This heav!y-duty magnetic puzzle is fun for kids to try to put together"]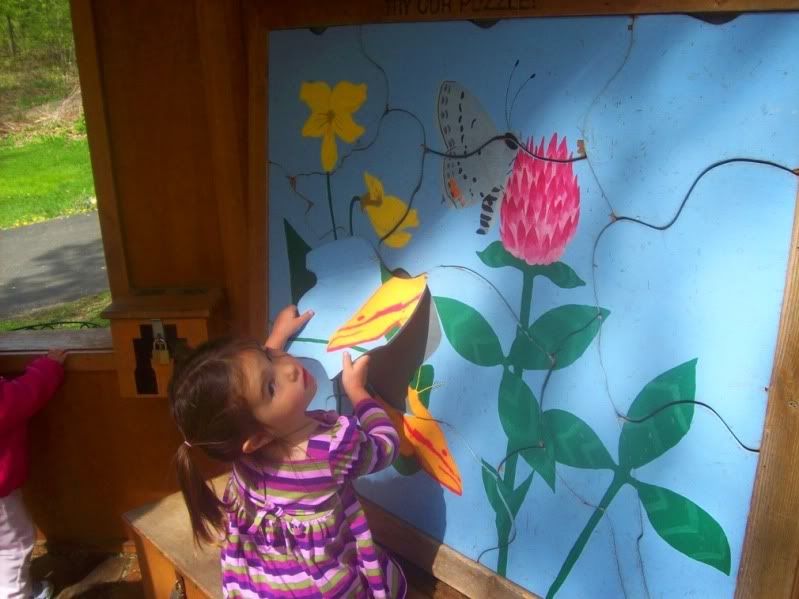 [/caption]
[caption id="" align="alignright" width="450" caption="Pufferfish loves to look in this pond in the butterfly garden, and watch the fish!"]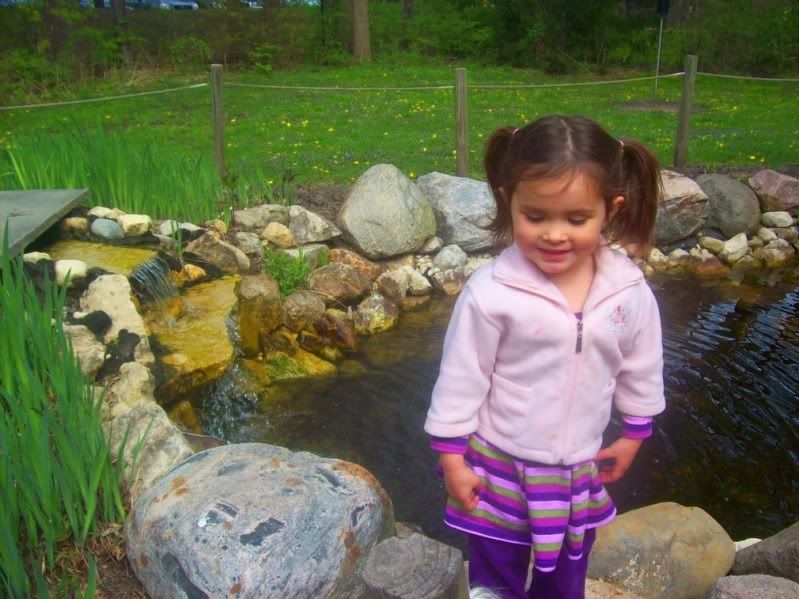 [/caption]
An employee introduces us to a resident raptor. His poor vision makes it impossible for him to live in the wild.
[caption id="" align="aligncenter" width="449" caption="This duck isn't a resident at Willowbrook. She just likes to visit the pond!"]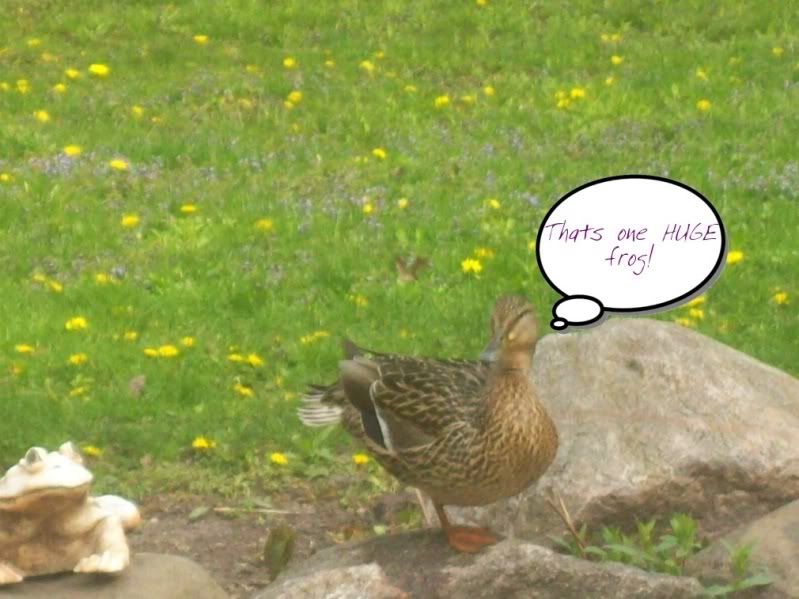 [/caption]
[caption id="" align="alignleft" width="403" caption="Inside, a volunteer introduced us to Freddy the rat! Contrary to popular belief, rats are sweet, intelligent, social creatures!"]
[/caption]
Willowbrook is definitely an awesome place. If you're looking for a fun, free outdoor place to spend some time, you need to check this place out!